It's Transformation Tuesday and I have just the Mom you must meet.

Her name is Danielle… and she was the Grand Prize Winner of the 2015 New Year's Transformation Challenge.
The reason she was selected to be highlighted today is due to the fact that she CHOSE to KEEP GOING.
Just because the challenge ended did not mean SHE should end her efforts.

Check out the progress she has made SINCE she posted her results in March ~  the photos are incredibly revealing.

Not only do her photos PROVE her continued progress… they also show how scale weight is the LEAST accurate measurement when it comes to acknowledging real, body shaping, life improving results.
I remember when I signed up I got a "Welcome, future Fit Yummy Mummy" message.

Then when I won the NYTC Holly called me a FYM… but it still felt like I didn't deserve that title.
I decided to take photos for the first time since the end of the New Year's challenge back in March…
….I am overjoyed that my body continues to change!!! 
I still have a ways to go but I feel like a real FYM today!

Before Photos are January 2015  – After Photos are May 2015
Things have been going pretty well since the end of the challenge in March! I still have my emotional ups and downs about my weight but I've tried hard to 'stay the course' and not be distracted by this number as I have learned, the scale does not define me as a person.
Honestly, since I haven't been in 'challenge mode', a few more indulgences have slipped in and I have missed a workout or two but all-in-all I have kept going!!!!
I admit that was a little disappointed when I recently stepped on the scale only to see that I've lost just 1/2 pound since the challenge ended. What??? That made no sense as I was feeling and looking good in the mirror —> what gives?
So I decided to take some pictures.

What a difference!
Now I can REALLY see the results of my efforts. I have made great progress on my belly – my biggest problem area! Old pants are starting to fit again AND I'm starting to practice taking better care of ME.

I used to feel like a slob since my son was born 2.5 years ago and would dress like a slob. Now I'm starting to take time to dress well so I can feel good about myself!

This is what has helped me keep going and stay consistent:

– 5 meals a day, focused on produce and protein

A Typical day of food for me looks like this…

m1 – 2 sunny side eggs over sauteed spinach. Will add cooked quinoa if
I have it on-hand.
m2 – Plain whole yogurt and blueberries
m3- post workout smoothie. My go-to: spinach, banana, blueberries,
milk, chocolate protein powder, cinnamon, and chia seeds.
M4- carrots and cottage cheese
M5- grilled chicken, roasted veggies, and a spinach salad


– Kept up on my strength workouts

– The change of weather
I am much more active taking walks and doing playground intervals while my son plays. I am already brainstorming about what outdoor activities we can do this Minnesota winter to keep me going.

-Gave up artificial sweeteners
I am a closet diet coke lover. I cut back a lot during the NYTC but I just wasn't ready to give it up…..it felt too overwhelming to me, but a few weeks ago I decided to take the plunge.

I did nothing else differently eating-wise and worked out less because I was nursing an injury. I almost lost a pant size in one week just from eliminating
-Holly's Videos
Holly has a ton of 
YouTube videos
and I try to find a new one to watch every day just to keep me motivated!
I'm so thankful to Holly and the CLUBFYM community. I am motivated to keep going and am so excited for the next challenge!!
~ Danielle C. Age 30, Mom of 2 1/2 year old, St. Paul MN

Incredible!
I was jumping up and down when she sent me these photos.. and I was so excited to share Danielle's story for it is the perfect example of how the scale truly canNOT measure the efforts you are making day in and day out… plus after this amazing mom WON A CHALLENGE – – – she did NOT Stop!

Sure she allowed more flexibility, but she held on to the new habits she established during her challenge experience and in doing so, she reaped the benefits of BEING CONSISTENT…. which in no way resembles being Perfect.

Huge difference there.

Showing up every day and giving your best – no matter what that best is — is what propels you forward.

Do you use photos to help SEE and measure your progress?

Would you benefit from taking part in a transformation challenge filled with driven moms like Danielle?
Great News!
The next challenge is less than a week away!!!
The 28 Day Sculpt It Challenge begins on
Monday, May 25th
– which is the official start of summer for those in the Northern Hemisphere.
What better way to kick if off than with a challenge filled with quick workouts, simple nutrition tips and amazing motivation – with me as your coach each step of the way!
There is even the new feature of a private Facebook Group to make it super simple to check in daily for added accountability!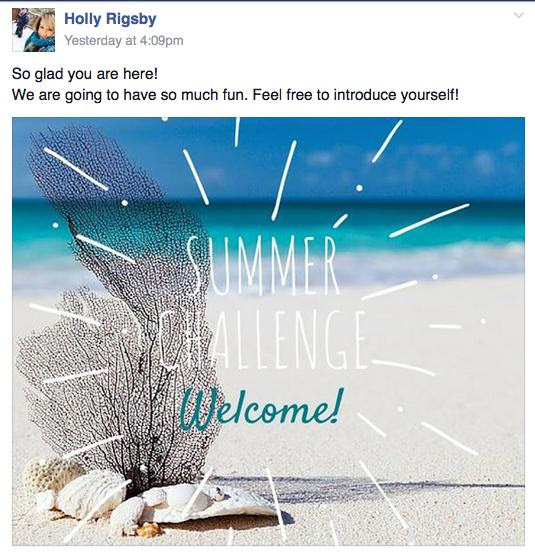 If you are ready to make this happen, watch your inbox tomorrow for the official invite.
Are a member of ClubFYM?
Please send an email to get VIP access link to this fun summer challenge. Due to the upcoming makeover, this is your solution to staying connected and making progress as the big move to the new ClubFYM takes place.
Any other questions? Ask me
Holly@FitYummyMummy.com
Enjoy the rest of your day and know Exciting Events are just around the corner for you!
Your Friend and Coach,